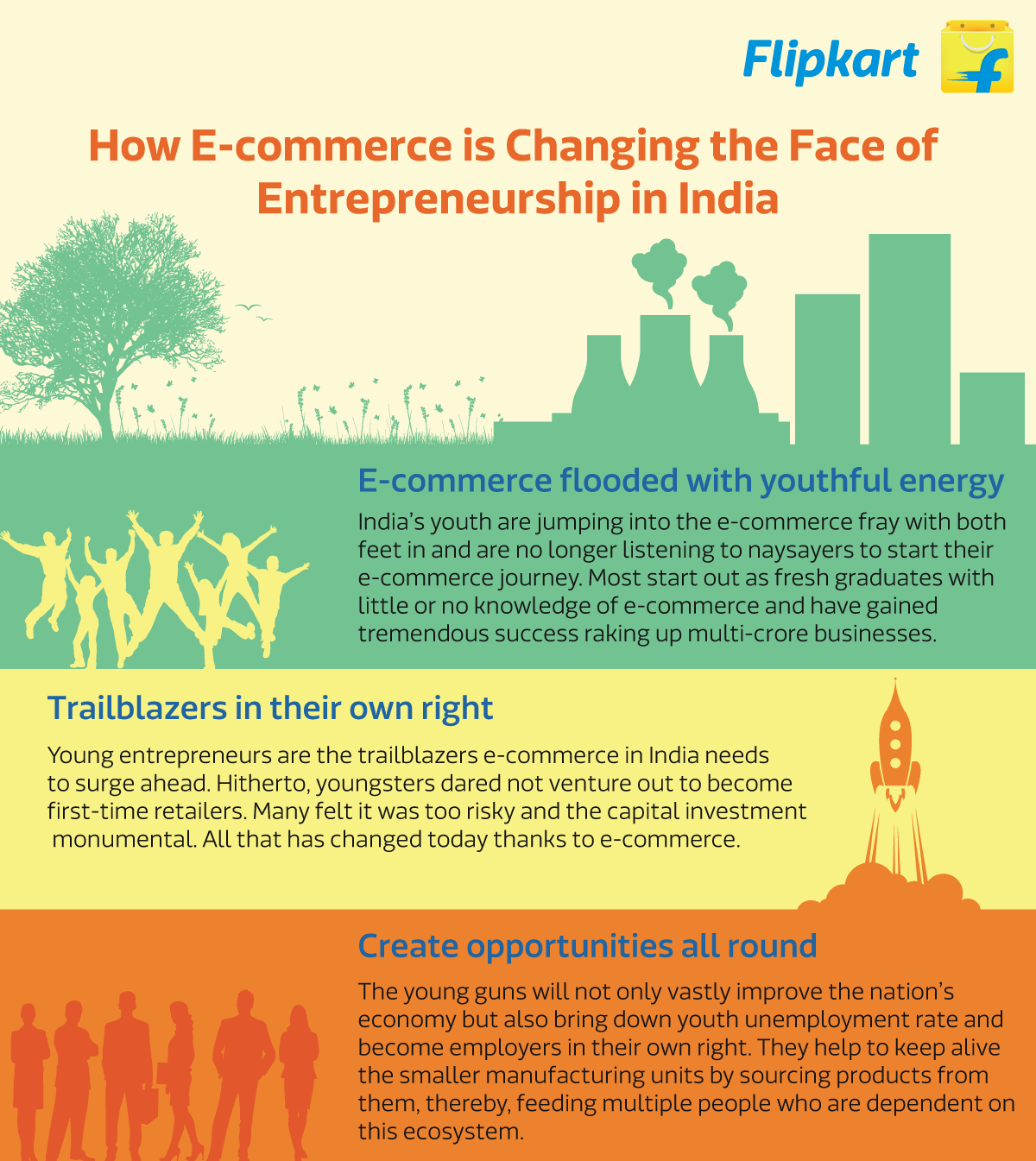 At just 26, Anurag Sabbarwal, is the owner of a company with over Rs 5 crore turnover and is an employer, providing jobs to 31 people. He doesn't have a fancy degree from a premier management school nor does he have any prior experience in business. After graduation, he worked at a bank for two years and later joined a fashion e-marketplace. That did not suit him too well but it was there that he saw the market potential of an e-commerce business.
At 23, he started SkyWays, a fashion accessories company, with just Rs 24,000. Today, in under three years, he is one of Flipkart's top sellers. Thanks, to e-commerce platforms like Flipkart, the youth of India have an arena to showcase their entrepreneurial inclinations. Many, like Anurag, do not want to join a 9-5 job. They want more. They need more. For them, ambition is a puny word.  They want control over their destiny. And e-commerce is the place they come to seek their fortunes.
A trained commercial pilot, Saumya Gupta took to online selling after the economy took a hit a few years ago. She joined the e-commerce platform selling clothes because it was something she was passionate about. Within a few years, Saumya went from a seller operating from her parents' garage to a full-fledged businesswoman running a Rs 3 crore company.
E-commerce is helping young men like Anurag and women like Saumya to fulfill lifelong dreams and ambition. In fact, they say that being an online seller has earned them more fame and recognition than a regular job would afford them.
"I was invited to a business conference where I sat alongside Flipkart founder and CEO, Sachin Bansal and Facebook's operations head in India, Kirthiga Reddy. We shared ideas and thoughts, and Kirthiga told me that at my age even Sachin Bansal had not even started on his entrepreneurial journey. It was a huge morale boost for me," says Anurag. He knows he is on the right path and will continue to grow his company and also the ecosystem surrounding the e-commerce industry.
Young entrepreneurs such as these are the trailblazers which e-commerce in India needs to surge ahead. Up until a decade ago, not many would have dared to venture out to become a first-time retailer. Many felt it was too risky and the capital investment monumental. All that has changed today thanks to e-commerce.
Many e-commerce platforms in India offer registrations free of cost and sellers can start selling almost immediately, provided they have the required documentation and enough inventory to fulfill orders. With an e-commerce platform, sellers can run a retail business without the hassle of rent, storage, and hiring manpower.
With the growing opportunities of e-commerce in India, the trend of more youth joining the fray is fast picking up steam. This will vastly improve not only the nation's economy but also bring down youth unemployment rate. Indeed, young sellers can amass huge fortunes if they have the will to join the e-commerce industry.